Date:
Friday, 05/17/2019
Time: 2:00 pm - 4:15 pm
Category:
Muffins-N-Movies:  Mary Queen of Scots
Starring:  Saoirse Ronan, Margot Robbie, Jack Lowden, Joe Alwyn, and David Tennant
Mary Queen of Scots explores the turbulent life of the charismatic Mary Stuart. Queen of France at 16, widowed at 18, Mary defies pressure to remarry and instead returns to her native Scotland to reclaim her rightful throne. By birth, she also has a rival claim to the throne of Elizabeth, who rules as the Queen of England. Determined to rule as much more than a figurehead, Mary asserts her claim to the English throne, threatening Elizabeth's sovereignty. Rivals in power and in love, the two Queens make very different choices about marriage and children. Betrayal, rebellion and conspiracies within each court imperil both Queens–driving them apart, as each woman experiences the bitter cost of power.
Rated R, 120 minutes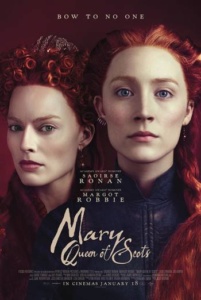 05/17/2019 2:00 PM
05/17/2019 4:15 PM
America/Detroit
Muffins-N-Movies: Mary Queen of Scots
Muffins-N-Movies:  Mary Queen of Scots Starring:  Saoirse Ronan, Margot Robbie, Jack Lowden, Joe Alwyn, and David Tennant Mary Queen of Scots explores the turbulent life of the charismatic Mary Stuart. Queen of France at 16, widowed at 18, Mary defies pressure to remarry and instead returns to her native Scotland to reclaim her rightful throne. […]
Dexter District Library
lryan
lryan@dexter.lib.mi.us