Date:
Friday, 12/14/2018
Time: 6:30 pm
Category:
"Remember the Night"
Starring: Barbara Stanwyck, Fred MacMurray, Sterling Holloway
Screen legends Barbara Stanwyck and Fred MacMurray star in this heartwarming holiday classic (1940). Lee Leander is a petty shoplifter on trial for swiping an expensive bracelet from a local jewelry store. When her trial is postponed until after New Year's, sympathetic Assistant District Attorney John Sargent bails her out of jail and invites her to his family's home for the holidays where she discovers the warmth and love she has never had but always wanted. Remember the Night is a timeless holiday favorite.
Rated G, 94 minutes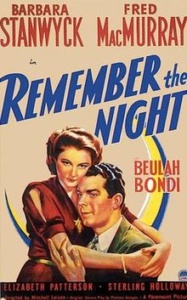 12/14/2018 6:30 PM
12/14/2018 6:30 PM
America/Detroit
Friday Night Movie For Adults
"Remember the Night" Starring: Barbara Stanwyck, Fred MacMurray, Sterling Holloway Screen legends Barbara Stanwyck and Fred MacMurray star in this heartwarming holiday classic (1940). Lee Leander is a petty shoplifter on trial for swiping an expensive bracelet from a local jewelry store. When her trial is postponed until after New Year's, sympathetic Assistant District Attorney […]
Dexter District Library
swright
swright@dexter.lib.mi.us