Date:
Friday, 05/10/2019
Time: 6:30 pm - 8:30 pm
Category:
Friday Night Movie for Adults: Instant Family
Starring: Mark Wahlberg, Rose Byrne, and Octavia Spencer
When Pete and Ellie choose to start a family, they stumble headfirst into the world of foster care adoption. After they learn their perfect foster child comes with two other siblings, Pete and Ellie find themselves speeding from zero to three kids overnight and must hilariously learn the ropes of instant parenthood if they hope to become a real family. Inspired by a true story.
Rated PG-13, 117 minutes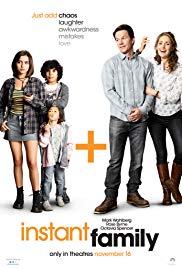 6:30 PM
8:30 PM
America/Detroit
Friday Night Movie for Adults: Instant Family
Friday Night Movie for Adults: Instant Family Starring: Mark Wahlberg, Rose Byrne, and Octavia Spencer When Pete and Ellie choose to start a family, they stumble headfirst into the world of foster care adoption. After they learn their perfect foster child comes with two other siblings, Pete and Ellie find themselves speeding from zero to […]
Dexter District Library
lryan
lryan@dexter.lib.mi.us