Date:
Thursday, 09/05/2019
Time: 11:30 am - 12:30 pm
Category:
Stop by the Library around lunchtime and see a variety of pre-1915 working automobiles.
The Michigan Chapter of the Horseless Carriage Club will be swinging through Dexter on their annual Lansing to Dearborn Rally. The Rally is held annually prior to the Old Car Festival at The Henry Ford and will be stopping in Dexter again this year.
These antique vehicles are operational and capable of making the 200-mile round trip from Dearborn to Lansing and back.
Arrival time is approximate, due to the maximum speed of the cars.  The cars will be on view for about one hour while the drivers have lunch.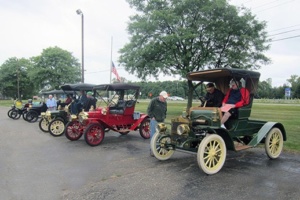 09/05/2019 11:30 AM
09/05/2019 12:30 PM
America/Detroit
Antique Car Rally
Stop by the Library around lunchtime and see a variety of pre-1915 working automobiles. The Michigan Chapter of the Horseless Carriage Club will be swinging through Dexter on their annual Lansing to Dearborn Rally. The Rally is held annually prior to the Old Car Festival at The Henry Ford and will be stopping in Dexter […]
Dexter District Library
pmccann
pmccann@dexter.lib.mi.us