Date:
Wednesday, 09/27/2023
Time: 6:00 pm
Category: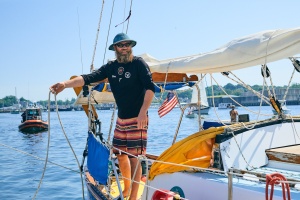 November 14th, 2022, the Mighty Sparrow departed from Rockland Maine intending on a 4–5 month voyage through the Trade Winds of the North and South Atlantic Oceans.  Within days of leaving the Gulf of Maine, Jerome and the Mighty Sparrow were battling against low pressure system after system.  Just beyond the dangers of the Gulf Stream, One Wave would change the voyage in seconds.
With considerable damage and missing critical gear from the deck, Jerome held fast through one of the longest and scariest nights he had ever spent at sea.  From that point it would take three weeks of sailing to reach the safety of port. The story of this latest voyage is brought to life with eye opening footage from aboard the Mighty Sparrow and weaved together with the firsthand narrative by Jerome himself.
About the presenter:
Jerome Rand became the captain and owner of the Mighty Sparrow, Westsail 32, in late 2015.  Within two years he set off on a solo non-stop circumnavigation around the world.  After 271 days at sea the trip was a success and covered nearly 30,000 miles placing Mighty Sparrow with only a handful of boats of its size to complete the voyage.
Since then, the adventure hasn't stopped.  In the following years Jerome added another 40,000 sea miles to Sparrow with both good and not so good results.  Tropical Storms, Pandemic Closures, and equipment failure have all played a big role in the various voyages over the past three years.
Starting his sailing career on the shores of small inland lakes in Northern Michigan, Jerome never imagined just how far the world of sailing would eventually take him.  With a decade of sailing in the Caribbean as part of the Bitter End Yacht Club, Jerome gained experience crewing on various yacht deliveries in the North and South Atlantic Ocean.
This lecture and multimedia presentation will be approximately 1 hour with some Q & A time.  Families are welcome.  Registration is not required.
09/27/2023 6:00 PM
09/27/2023 6:00 PM
America/Detroit
Sailing Adventures with Jerome Rand
November 14th, 2022, the Mighty Sparrow departed from Rockland Maine intending on a 4–5 month voyage through the Trade Winds of the North and South Atlantic Oceans.  Within days of leaving the Gulf of Maine, Jerome and the Mighty Sparrow were battling against low pressure system after system.  Just beyond the dangers of the Gulf […]
Dexter District Library
lryan
lryan@dexter.lib.mi.us