Detroit legend Al Kaline, known to many as 'Mr. Tiger' in honor of his 22-year playing career and 67-year affiliation with the Detroit Tigers, passed away on Monday, April 6, 2020 at the age of 85.
---
Check out these books to learn more about Al Kaline's life and legacy: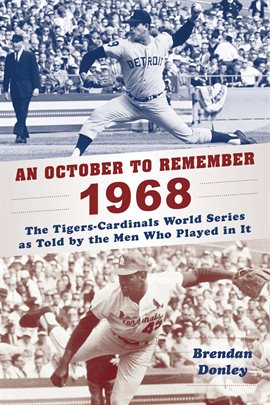 An October to Remember 1968: The Tigers-Cardinals World Series as Told by the Men Who Played in It by Brendan Donley
An October to Remember 1968 recalls one of baseball's most celebrated championship series from the voices of the players who still remain–a collected narrative from a bygone era of major-league baseball as they reflect fifty years later. The book illustrates in detail what it was like to be a 1968 Tiger, a 1968 Cardinal: what it was like to win it all and to lose it all: what it was like to face Bob Gibson peering in from the mound, Al Kaline digging in at the plate; what it was like, in the player's own words, to remember the days of that most special period in the history of America's national pastime.
Detroit Sluggers: The First 75 Years by Mark Rucker, Part of the 
Images of Baseball
 series
Ever since the city was granted its first major-league team, the Wolverines in 1881, Detroit baseball fans have packed the parks to loyally cheer for their favorite sluggers at the plate. The Detroit ball club won its first National League pennant in 1887. Twenty years later, a rookie named Ty Cobb, at the start of a hall-of-fame career, led the league in batting and the Tigers to three successive American League pennants. Hank Greenberg, Rudy York, and Al Kaline joined the ranks of Motor City sluggers in the coming decades who thrilled fans with the long ball in pennant race after exciting pennant race.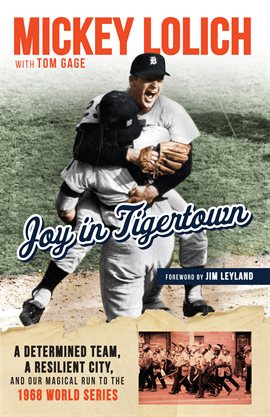 Joy In Tigertown: A Determined Team, a Resilient City, and our Magical Run to the 1968 World Series by Mickey Lolich with Tom Gage
Told with the vibrant first-hand perspective of Lolich himself and the expertise of award-winning Detroit journalist Tom Gage, this is the remarkable saga of that 1968 season which culminated in Tigers glory. Incorporating new reflections from players and personnel, Joy in Tigertown traces such achievements as Denny McClain's 31-win season as well as the remarkable slugging performances of Al Kaline, Norm Cash, Willie Horton, and Bill Freehan.
Available on hoopla
For The Love Of The Tigers: An A-to-Z Primer for Tigers Fans of All Ages by Frederick C. Klein
Presents the alphabet with each letter represented by an element of the history of the Detroit Tigers and their most notable players. Readers will enjoy fun facts and amusing illustrations of some of the most famous—and infamous—characters in the baseball team's history, including Ty Cobb, "Hammerin' Hank" Greenberg, Ernie Harwell, Al Kaline, and Mickey Lolich.