Date:
Friday, 07/19/2019
Time: 2:00 pm
Category:
Starring: Matt Damon, Jeff Daniels, Michael Pena and Sean Bean
When astronauts blast off from the planet Mars, they leave behind Mark Watney (Matt Damon), presumed dead after a fierce storm. With only a meager amount of supplies, the stranded visitor must utilize his wits and spirit to find a way to survive on the hostile planet. Meanwhile, back on Earth, members of NASA and a team of international scientists work tirelessly to bring him home, while his crewmates hatch their own plan for a daring rescue mission.
Rated PG-13, 144 minutes
This program is part of the Adult Summer Reading Program: "A Universe of Stories".  Registration in the Adult Summer Reading Program is NOT required to attend this event.  All are welcome.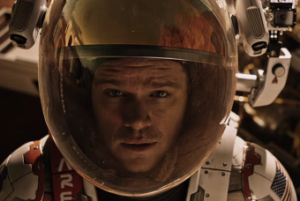 07/19/2019 2:00 PM
07/19/2019 2:00 PM
America/Detroit
Muffins-N-Movies: The Martian
Starring: Matt Damon, Jeff Daniels, Michael Pena and Sean Bean When astronauts blast off from the planet Mars, they leave behind Mark Watney (Matt Damon), presumed dead after a fierce storm. With only a meager amount of supplies, the stranded visitor must utilize his wits and spirit to find a way to survive on the […]
Dexter District Library
lryan
lryan@dexter.lib.mi.us